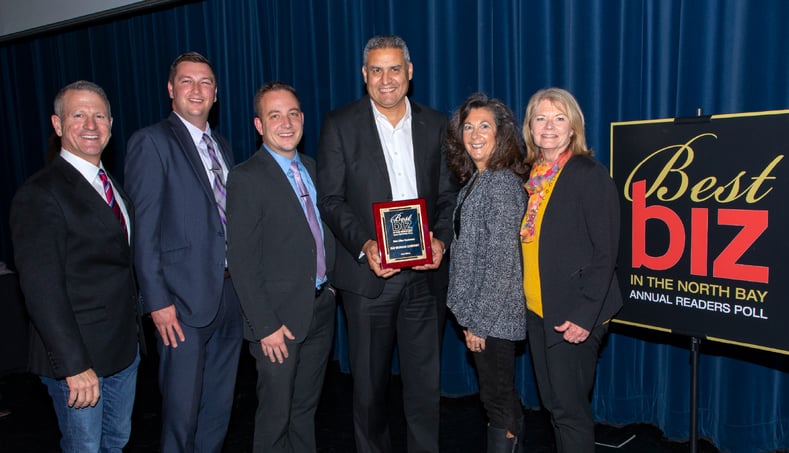 The Ray Morgan Company has been awarded a Gold Medal in Office Equipment by the 2019 NorthBay Biz reader's poll. This is the second time this branch has been honored with this prestigious award. Each year, NorthBay Biz readers are polled with an open survey regarding local companies. With more than 3,000 ballots cast and more than 60,000 individual votes, our branch has captured top-of-mind awareness among the NorthBay Biz readers. Ray Morgan Company is the people's choice when it comes to the best of the best in the North Bay.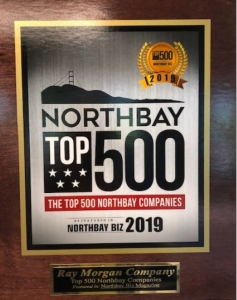 Sales Manager Marea Canizzaro (Pictured above far right) shared a little bit about their branch. She said, "The North Bay Branch opened in 2013. We have grown organically since opening, and we have achieved nearly $10 million in revenue in 2018." When asked about what makes living and working that area special, she said, "The ambiance, the beautiful vistas of rolling hills, the vineyards, and the Pacific Ocean make the North Bay a great place to live and work. Even as we have enjoyed tremendous growth through hard work, we continue to value our family culture."
RMC North Bay was Awarded the Plaque by articulating RMC values that are recognized by others in that community. She said, "Our employees really do live by the RMC company motto of being large enough to matter, yet small enough to care. This truly resonates with the values within the North Bay business community."