FOR IMMEDIATE RELEASE
Original Source: Juncos Racing
JUNCOS RACING ANNOUNCES SPONSORSHIP FROM
RICOH USA AND RAY MORGAN COMPANY
INDIANAPOLIS, IN – May 16, 2017 – Juncos Racing announced today that Ricoh USA and Ray Morgan Company will be associate sponsors of the No. 11 Juncos Racing entry driven by Spencer Pigot during the 101st running of the Indianapolis 500 at the Indianapolis Motor Speedway in Speedway, Indiana.
Ricoh USA and Ray Morgan Company join primary sponsors Oceanfront Recovery through Rising Star Racing and P1 Management of Pigot's Chevrolet powered car.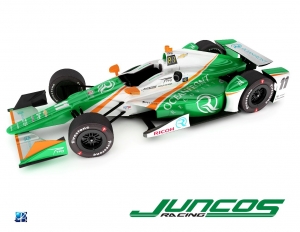 "I am proud to have the support of Ricoh USA and Ray Morgan Company as we make our debut at the Indianapolis Motor Speedway," said Juncos Racing owner Ricardo Juncos. "Racing is a very competitive sport and I really appreciate having such highly respected companies standing with us. It is an honor and a privilege to represent them."
Commenting on the sponsorship John Steward, Regional Vice President of Ricoh USA said, "Ricoh, in conjunction with Ray Morgan Company, is proud to sponsor Juncos Racing and Spencer Pigot in the #11 car for the 101st Running of the Indianapolis 500, said "Ricardo Juncos is a true American success story. As we celebrate America this Memorial Day, we celebrate the drive, passion and determination of Ricardo, Spencer and the entire Juncos team to make it to the pinnacle of open wheel racing in America."
Sam Pulino, Chief Operation Officer for Ray Morgan Company noted, "The opportunity to partner with Ricoh USA to support Spencer in the 101st running of the Indianapolis 500 is quite extraordinary. I have followed Spencer from his early days in karting where he raced for Ricardo Juncos. I watched through the years as they both progressed in racing, ultimately teaming to win two championships on the "Mazda Road to Indy". Those victories propelled Spencer into the Verizon Indy Car Series. Both have amazing stories. Spencer, karting since he was 8 years old to becoming a Verizon Indy Car Series Driver. Ricardo, his story of coming to America from Argentina with a dream of a life in racing, to becoming a team owner on the verge of his first entry in the Indianapolis 500 Both are worthy of celebration. We are excited to team up with Ricoh in support of the #11 car of Spencer Pigot and Juncos Racing!"
Pigot will be making his second Indy 500 start. He contested 10 Verizon IndyCar Series events in 2016. The 23-year-old from Orlando, Florida ran three races in 2016 for Rahal Letterman Lanigan Racing including his first Indy 500 where he qualified 29th and finished 25th. He also contested seven races in 2016 with Ed Carpenter Racing scoring two top-10 finishes including a career best seventh place showing at Mid-Ohio (ninth at Road America). Pigot is scheduled to contest all Verizon IndyCar road and street course events for Ed Carpenter Racing in 2017 and has already notched two top-10 showings in his first four events. He finished a season-high eighth at Long Beach and placed ninth last weekend in the Indy Grand Prix.
"I'm excited and honored to be associated with Ricoh USA and Ray Morgan Company," said Pigot. "Sam (Pulino, COO Ray Morgan Co.) has followed my career since the beginning and I cannot thank him enough for his support and that of the Ray Morgan Company. Ricoh is obviously an outstanding company and to have them in my corner at the Indy 500 is awesome. I look forward to having a strong race and celebrating with them, their employees and guests."
Pigot previously drove for Juncos Racing, which is contesting its first Indianapolis 500, beginning in Karts in 2003 and subsequently captured the 2014 Pro Mazda Championship and the 2015 Indy Lights Championship for the team.
About Ricoh USA Inc.:

Headquartered in Malvern, Pennsylvania, USA, Ricoh USA, Inc. is the North and South American arm of Tokyo-based Ricoh Company, Ltd. Comprised of USA, Canada and Latin America, we have more than 30,000 employees located throughout the two continents. We deliver products, services and solutions to help companies make the most of their information and work faster, smarter and more successfully. These include:
Document workflow solutions
Office printing and imaging equipment
Audiovisual collaboration technologies
Production print solutions
IT and technical support services.
Targeted solutions for healthcare, legal, higher education and other industries.
About Ray Morgan Company:

Ray Morgan Company at a glance- Established in 1956, we have grown to one the largest independent office equipment & related software dealers in the USA. We are also one of the fastest growing RICOH dealers in the USA. Additionally, in response to customer demand for coordinated, in house, professional IT Services and support, RMC's Pro IT division provides technology solutions and support to thousands of clients. Headquartered in Chico, California, RMC has three Regional Headquarters in Roseville, Pleasanton and Fresno, plus 15 additional offices strategically located in central and northern California and western Nevada. With annual revenues of nearly $100 million, RMC has the financial stability, extensive geographic coverage and the resources to meet the ever-changing needs of our customers. Mindful that bigger is not always better, we staff our branches with local management empowered to ensure our clients' complete satisfaction. Plus easily accessible regional ownership means being able to quickly facilitate our clients' business needs and always being one phone call away from any customer issue. To learn more visit www.raymorgan.com
About Juncos Racing:

Juncos Racing was founded by Argentinean Ricardo Juncos in 1997 as a small formula car program based in Buenos Aires, Argentina. Juncos relocated to the United States in 2002 where he worked as a mechanic for a small karting team based in Florida. He then reestablished Juncos Racing and competed in karting series throughout the United States before moving up to the Pro Mazda Championship and then Indy Lights. Juncos Racing has been, and is, a highly successful team both the Pro Mazda and Indy Lights. To date, the team has earned 44 wins and 50 pole positions in Pro Mazda and Indy Lights competition including three driver championships, 2010 Star Mazda (now Pro Mazda) Championship with Conor Daly, the 2014 Pro Mazda Championship and 2015 Indy Lights Championship with Spencer Pigot. Both now compete in the Verizon IndyCar Series. Juncos currently fields two cars in Pro Mazda and Indy Lights as well as two cars in the 101st running of the Indianapolis 500 the team's inaugural appearance in the Greatest Spectacle in Racing.
Juncos Racing relocated its headquarters in November 2016 to a new 40,000 sq. ft. state-of-art facility in Speedway, Indiana.
For more information, please visit www.juncosracing.com.
Following us on social media at: www.twitter.com/juncosracing; www.facebook.com/juncosracing;
Contacts:
Kevin Diamond – Mobile Phone: (415) 729-6011
Email: kdpr@att.net or kd@juncosracing.com
Abby Carter – Office Phone: (317) 552-2967 Mobile Phone: 816 694-1685
Email: abby@juncosracing.com